Counting Down to Christmas: Unicoeye Announces the Start of Their Holiday Celebration
Dec 09,2022 | Unicoeye® | Colored Contact Lenses
With Christmas approaching, Unicoeye has kicked off their winter celebration. The popular colored contact lens marketer is sharing fantastic Christmas-themed colored contact lenses and hosting extraordinary sitewide discounts on their products to help consumers get a head start on showing their festive spirit.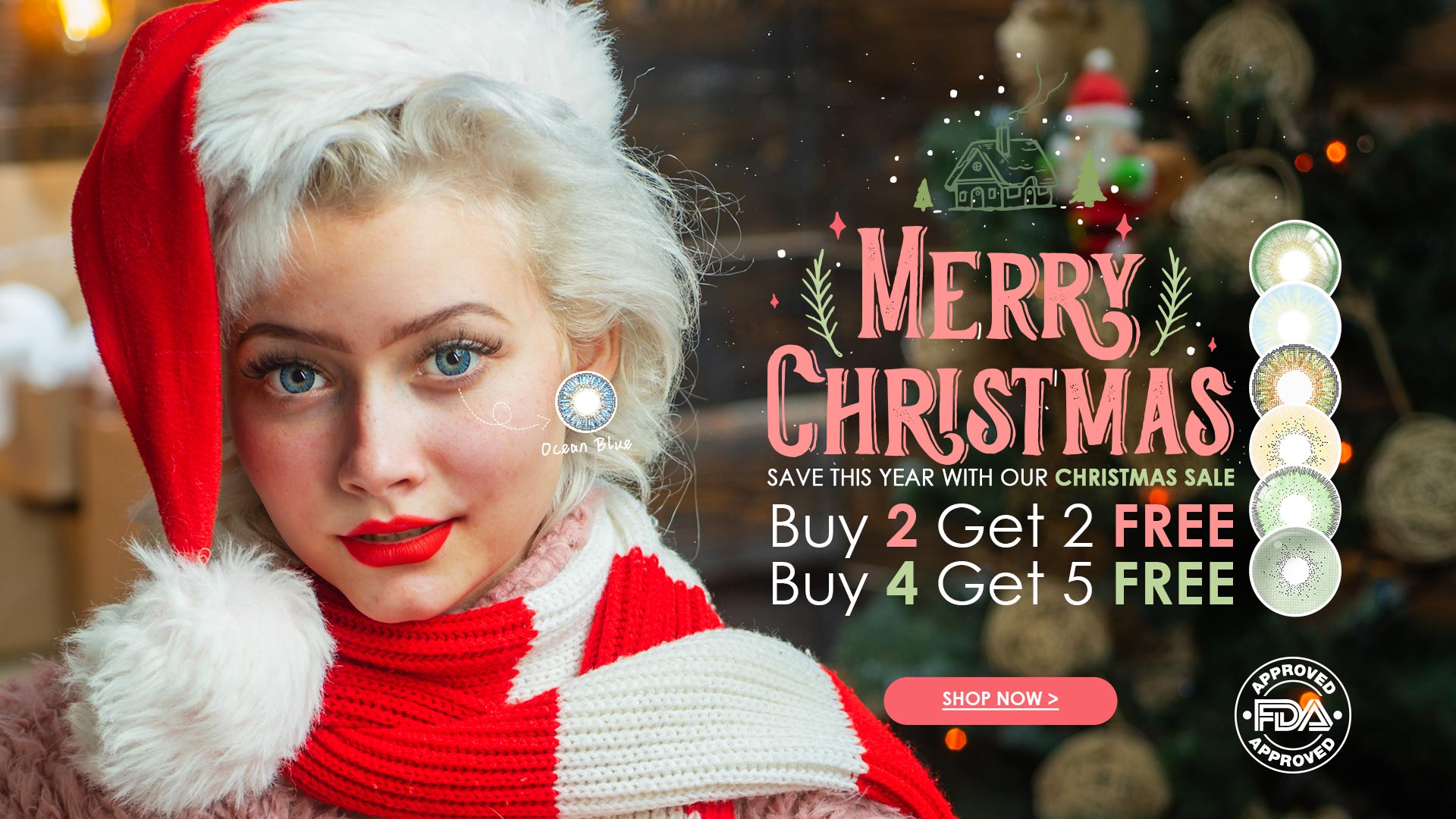 "We are delighted to announce our holiday celebration and would like to invite everyone to join us this Christmas season to celebrate the end of another great year!" said the Unicoeye team. "With our fantastic colored contact lenses, we hope that those who come to Unicoeye can confidently stand out and express their personality."
Unicoeye's constant mission is to build a reliable colored contact lens brand with artistic features and support people in expressing their personalities and styles. Thanks to their excellent design team, their original designs have quickly won the favor of consumers with their vibrantly colorful patterns. Unicoeye is also constantly updating the styles of colored contact lenses that are available on their website as well as adding new items to their various collections. At present, customers can browse ten main colors of lenses in various styles suitable for any occasion—exploring a new everyday eye color, complementing a fancy outfit, emphasizing one's existing eye color, or even cosplay. More importantly, in addition to providing safe, high-quality lenses, this brand is also committed to providing customers with the best shopping experience possible. Examples of this commitment include, but are not limited to, establishing a US warehouse for customers to shorten the delivery time so that they can get their purchases within 2–6 days.
For Unicoeye, this has been a prosperous year, full of accolades and growth. From the launch of new products to the expansion into new markets, the brand has seen a tremendous amount of success. To celebrate this success and cater to shoppers for the Christmas holidays, they have decided to kick off their festivities early, including special discounts, exclusive offers, and new Christmas-themed contacts. Whether shoppers are looking for unique, personalized gifts for family and friends or are looking to upgrade their own Christmas makeup looks, colored contact lenses are excellent choices.
Festivity Details:
Buy 2 Get 2 Free (Add 4 items and 2 free lens cases to the cart)
Buy 3 Get 4 Free (Add 7 items and 3 free lens cases to the cart)
Buy 4 Get 5 Free (Add 9 items and 4 free lens cases to the cart)
Get one extra random pair of lenses with every pair purchased. The random lenses will not be shown on the checkout page. The website discounts above are also available for the lenses under Classic Contacts.
Additionally, Unicoeye has provided some exclusive ideas and tips for Christmas makeup looks in an effort to inspire customers and help them look their best. Anyone can stand out at a Christmas event with the distinctive and eye-catching effects created by pairing the right colored contact lenses with their holiday makeup.
Reindeer Makeup
A reindeer is a long-time Christmas symbol that is many people's favorite. This look is not only festive but also easy to do. All it needs is a brown sweater, a pair of reindeer ears, and some simple reindeer face paint. For those who want to top off their makeup by adding a touch of extra fun, a pair of Taylor Brown Hazel Contacts can act as the perfect complement.
Festive Red and Green Makeup
Few colors scream Christmas more than the classic combo of red and green. With a range of red and green lenses on the Unicoeye website, makeup lovers can build themselves a rich, bold eye makeup look. Another way to stand out is by using a red-green lens combination, meaning the wearer needs one red lens in one eye and one green lens in the other, followed by red and green eyeshadow. Finally, with a few Christmas-themed accessories, the wearer can build on this makeup to create a stunning Christmas elf look.
Ice Queen Makeup
Christmas is a magical time of year, and it wouldn't be complete without a little snow here and there. For those who love the winter season, it's the perfect time to dress up as a magical ice queen. In fact, a range of blue lenses will help bring this frosty character to life. Some simple blue shades, such as the Pixie Blue or the Pomelo Blue lenses, can give anyone a beautiful and chilling stare. Alternatively, the New York Blue contacts can be paired with white and metallic blue products to create a frostier, more texture-focused look. Whatever the wearer's preferences, embodying a wintry queen is certainly a cool way to spend Christmas.
Even though Christmas is still a while away, the excitement and cheer that come with it have already taken hold at Unicoeye. Those interested can check out https://unicoeye.com for a wider selection of Christmas-themed colored contact lenses and makeup ideas. This Christmas, anyone can get creative with different colors and styles from Unicoeye.
About Unicoeye
Unicoeye is a professional colored contact lens brand with a keen sense of fashion. Since its inception in 2019, the company has always been dedicated to providing safe and well-made products to every customer. Unicoeye insists on making eye health a top priority, using "sandwich printing" technology in their lenses to protect customers' vision, and providing consumers with an FDA-approved purchasing experience.
Official Website: https://unicoeye.com/
SOURCE: https://www.prnewswire.com/news-releases/counting-down-to-christmas-unicoeye-announces-the-start-of-their-holiday-celebration-301697105.html
Comment